HKOBDII
Xhorse VVDI2 Full Kit with OBD48 + 96bit 48-Clone + MQB + BMW FEM/BDC
0
stars, based on
0
reviews
Price:
$1999.00$1599.00 / piece
Contact Us
HKOBDII
Xhorse VVDI2 Full Kit with OBD48 + 96bit 48-Clone + MQB + BMW FEM/BDC
You will get VVDI2 Full Version including following authorizations.
1) VV-01 VAG 4th immobilizer
2) VV-02 VAG 5th immobilizer
3) VV-03 VAG Copy 48 transponder by OBDII
5) VV-05 VAG MQB Immobilizer
8) VB-03 FEM/BDC Function
9) VP-01 Porsche immo data tool
11) VK-01 Transponder Programmer
Please note:
1.Pls directly give us serial number, we will active the followings free:
OBD read MED17/EDC17 PIN / CS / MAC, calculate OBD data online, calculate EEPROM / FLASH for PIN/MAC/CS.
2. It connects to the server and synchronizes once every 31 days. This process is done automatically by itself for 1 day, internet connection is required for this process.
3.Toyota H Chip authorization, please get by yourself: Select in xhorse update kit software bind,log in Customer Self Service, point shop to click Activate H.
VVDI2 for BMW language:English,Italian,Spanish,Polish,German,Hungarian,Chinese
VVDI2 for VAG language:English,Polish,Spanish,Chinese
VVDI2 for Porsche language:English,Polish,Spanish,Chinese
VVDI2 for PSA language:English,Polish,Spanish,Chinese
VVDI2 for Transponder programmer language:English,Polish,Spanish,Chinese
Xhorse VVDI2 Full Version Special Functions
Support Volkswagen, Audi, Skoda, Seat, Porsche, Bentley ect.
Main Function:Diagnose,4th immo,5th immo system
Program Engine control unit(Passat ICC By OBD)
Unlock Immo1/Immo2 firmware protection
Support data manipulation tools
K-line instrument /immo box
adapt unit module component protection, dump tool and so on
Support file make key and key learn by OBD2
EEPROM support:1L15Y,2M25J,5M48H,1N35H
Transponder Programmer Introduction:
Remote transponder programmer, hundred kinds of special transponders, thousand kinds of vehicles supported immo data tool,
prepare remote, copy remote, copy transponder(11,12,13,40,44,Hitags(46),48),other key tool(find 7th CS from working key) etc
OBD key learn(CAS1/CAS2/CAS3/CAS3+)
File Make Key(CAS1/CAS2/CAS3/CAS3+/CAS4/CAS4+)
read & write EWS/CAS EEPROM
synchronize DME-CAS, synchronize CAS-ELV
Fix CAS4 EEPROM key programmer
Generate specialized chips
Immobilizer data processing tool
Peugeot/Citroen/DS get password, key learn
Support PASSTHRU J2534,can be used by third party software ODIS ect.With built-in switch matrix, it supports third-party diagnostic software including:
ODIS, Toyota TIS techstream etc.
To perform VVDI2 diagnostic function, third-party diagnostic software should be compatible with J2534 function.
How to activate Toyota H Chip Function in VVDI2 Full?
1) Connect VVDI2 to PC via USB cable
2) Open Upgrate kit, select VVDI2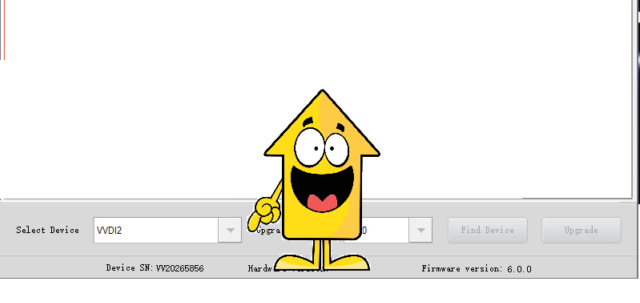 3) Click View My bonus Points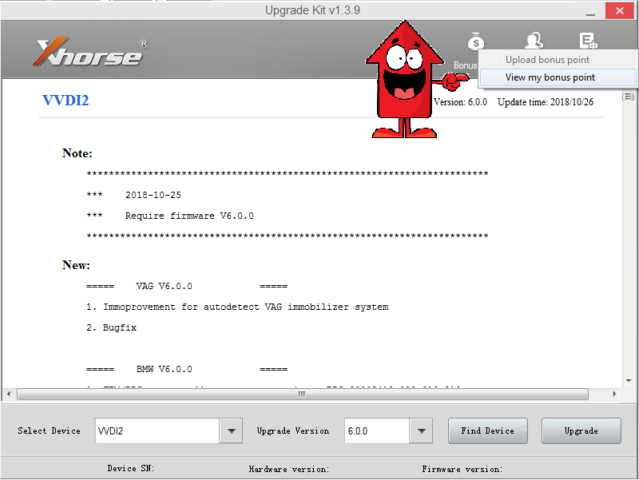 4)Type Login and password for your account on Customer Self Service website
5) Select Activate H

VVDI2 key programmer Parameter
| | |
| --- | --- |
| Working teamperature | -20~70℃ |
| Store teamperature | -40~80℃ |
| Item dimension | 146*85*33mm |
| Package dimension | 355*283*87mm |
| Net weight | 0.23KG |
| Gross weight | 1.5KG |
| Power | 1W |
| USB Interface | USB 2.0 |
Package List:
1pc x VVDI 2 Main Interface
1pc x 5th BDM Programmer
1pc x OBD2 Cable
1pc x Remote Programmer
1pc x USB Cable
If you have any problem, please feel free to contact us.
Contact Information:
Whatapp: +86 180 8617 4162
Email: auto.locksmith@qq.com