HKOBDII
Xhorse Condor Dolphin XP005 Automatic Key Cutting Machine Works on IOS & Android
0
stars, based on
0
reviews
Price:
$2250.00$1799.00 / unit
Contact Us
HKOBDII
Xhorse Condor Dolphin XP005 Automatic Key Cutting Machine Works on IOS & Android
Product Description:
Xhorse Dolphin XP-005 is the latest portable automatic key cutting machine from Xhorse with built-in battery.
It has all the capabilities of the Condor XC Mini and works with a phone app and bluetooth connectivity.
It can cut 20 HU66 key blanks front and back from one battery pack.
Xhorse Dolphin XP-005 Automatic Key Cutting Machine
Xhorse Dolphin XP-005 is a portable machine with a small volume and light weight, which is particularly and carefully designed for locksmiths worldwide.
Xhorse Dolphin XP-005 Highlights:
1. It has all the capabilities of Condor XC-Mini, Build-in key database
2. Smart control and operation on APP
3. Portability and build-in Lithium battery with a long battery life
4. Support clamps M1, M2, M3(optional), M4(optional)
5. Support sided/track/dimple keys/tibbe keys/some household keys
6. Cutter and probe work in parallel
8. Imported ball screw with high precision
9. Cross rail with high rigidity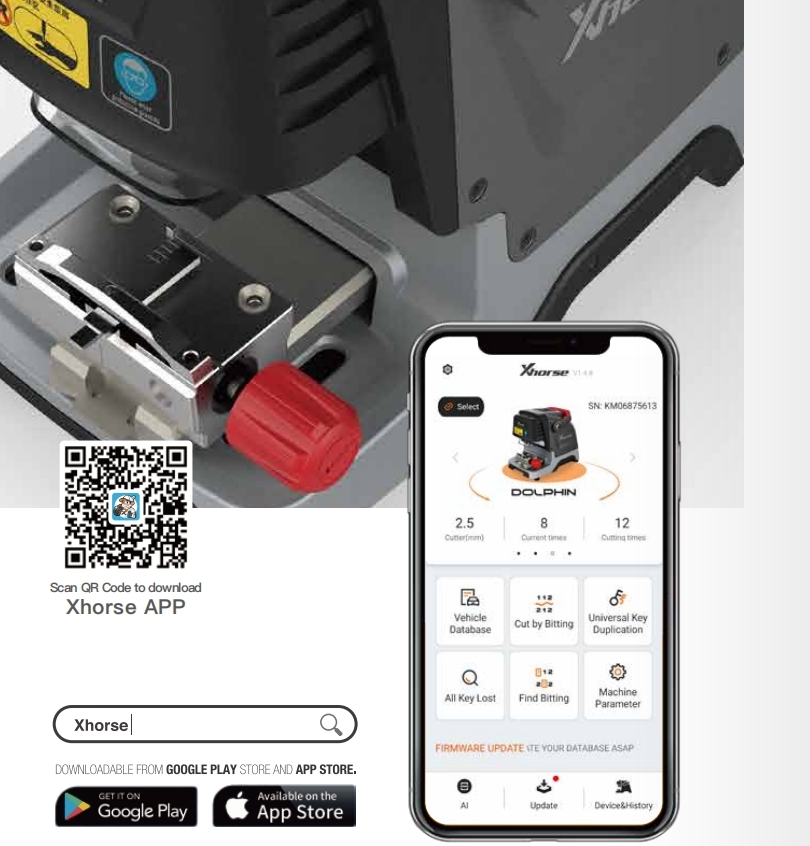 Xhorse Condor Dolphin XP005 Key Cutting Machine Features Detail:
APP smart cellphone operation
Built-in Bluetooth function, use smart cellphone or tablett to download APP, easy for smart operations
Portable and convenient
Compact structure design, perfect space utilization; built-in lithium battery one-time full charge, machine will cut 30-50 keys stable solid handle for safe and portable movement, perfect experience
Standard equipped 2 clamps M1 and M2 with powerful function
Supports Sided, Track, Dimple and Tibbe keys. Optional M3 clamp and M4 clamp are available, M3 Clamp is applicable to Ford FO21 & Citroen SX9 keys, M4 Clamp is applicable to single sided house-key.
Manufacture Process
All aluminum body structure, Manufactured by Germany-made DMG CNC machine;
American imported 3-Axis Precision Ball Screw with clearance function, ensures high precision cutting.
Online update
Free online update software, the latest update information will be released timely, 24hours support server online update, no need to send back for update.
How to Update Xhorse Dolphin XP-005 Database?
1) Enter Dolphin XP-005 main interface and click "Update"
2) Click "Database update"
3) If you find a new version,click "Update" and download the new version.
Click on "OK" after download database success
If cellphone connected by mobile internet data,a prompt saying that download maybe costs data fee,recommend downloading by WIFI.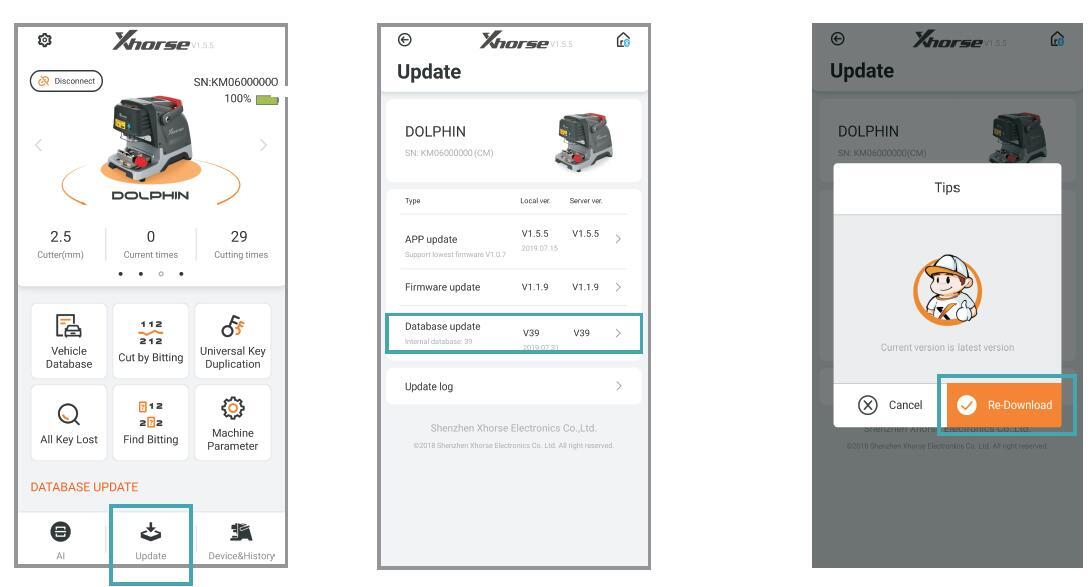 Xhorse Dolphin XP005 Key Cutting Machine Parameters:
Working Temperature: -10~50℃
Battery Capacity: 64.75wh
Motor Rotation Speed: 10000-13000RPM
Machine Dimension: 315*218*270mm
Package Dimension: 510*315*345mm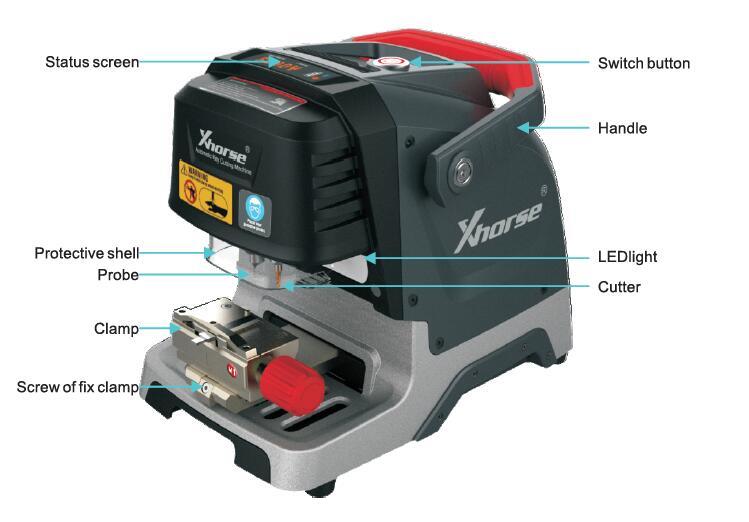 If you have any problem, please feel free to contact us.
Contact Information:
Whatapp: +86 180 8617 4162
Email: auto.locksmith@qq.com